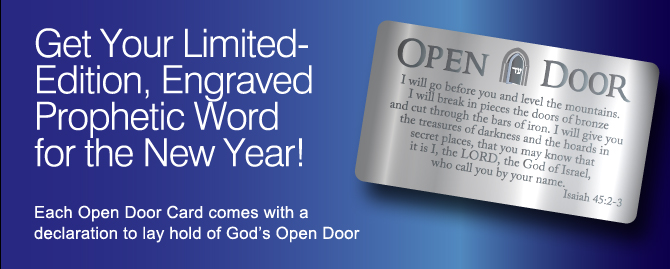 "It's the year of the open door!" That is what the Christian prophets are saying about 2014 (Hebrew year 5774). How they know this, I do not know suffice to say there is something about the way the Hebrew acharacters are written that supposedly reveals this.
Prophets have been around since God first introduced himself to mankind. Some say Adam was the first, while others say Abel or Enoch were the first. Nevertheless, the role of the prophet has always been a significant one. They are the people who have direct lines of communication with God, and the boldness to proclaim His words to mankind. I don't need to explain the power this position gives to a man (or woman). Prophets, if valued as such, are to be taken seriously. When a word is spoken "over" your life, you do what you are told in order to reap the blessing.
Naturally, because man is imperfect, many prophets have said things that led others into some pretty tumultuous times. I believe this is a large reason why the gift of prophecy is no longer propagated from the pulpit. This is also why John from the Bible instructs us to "test" the spirit that is speaking to us prophetically (1 John 4:1-2).
I'll admit that in my personal life, there have been very few words that I consider  relevant – meaning they spoke to a specific situation I was going through ("Word of Knowledge"), or informed me of a situation I was about to go through (Prophetic). Because of the low accuracy ratio, I've grown weary when someone begins to prophesy. Don't get me wrong, I have the privilege of being good friends with several people who hear from God very clearly. They almost always deliver what I could say are accurate and Godly insights into my life. I am deeply grateful for those people, because most all accurate prophetic words spoken to me have come from these few dear friends. Ironically, none of them have "big names" or "prophetic ministries". They haven't written any books and do not hold pulpit positions in the church. More ironic is the ability for the big name ministers to seemingly "miss" God's voice when they try to articulate His will for my life. This is why I am such a proponent for reading your Bible if you want to know Gods will for your life. No "big name" will ever articulate God's will more clearly than God's word as you read it for yourself (I recommend starting with Colossians, and inserting your name into as many verses as you can).
"The year of the open door." Why does this seem like the new catch phrase of the Charismatic / Pentecostal movement? Could there really be something to it? Or is this just another way for big ministries to increase offerings and ministry event attendance? Unfortunately,  past experiences cause me to lean toward the latter. But, Lord knows my family could use a open door season at this time. I want to believe this year is a turning point. Last year was hell on earth for us (Read my wife's story about our desert journey here). I look back over the last year and shake my head, what was God thinking! I am still a little hurt at all that happened, but each day continues to bring more healing. It is also getting easier to be genuinely thankful for God's daily interactions with my family.
I am smiling as I sit in bed typing in our new apartment (We finally moved out of my in law's basement!) and reflecting on the dreams Mel and I have begun sharing with each another. Dreams to play music again (and make $ ); dreams to begin a worship ministry; and dreams to see the boys make new friends and get involved with activities outside of school and church. At the same time, I am acutely aware of those close to us who are hurting as they enter their deserts. I find myself asking God, "Where is the open door for them?" As grateful and humbled as I am at how quickly seasons seem to be changing for my family, my prayers go out for those who are hurting and needing to encounter God in their desert.
Is this really the year of the Open Door?
I want to hear your thoughts – are you seeing evidence in your life that doors are opening for you to enter into better circumstances and blessing?